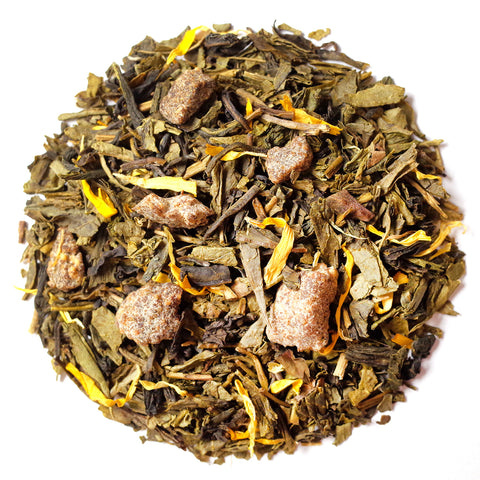 The Playful Pear • Sachet Box
Pear Flavoured Green Tea
10 Sachets | Net Weight (20 g)
They say that happiness only exists when you can play together with a partner. We applied this philosophy when making this special blend by combining a joyful pair together, Pear and Green Tea, together to create a unique yet playful taste. It's simply pear-fect!
How Special?
For those who is not a fan of the vegetal taste of green tea but still want to be benefited from its rich antioxidant, pear flavouring does the magic here.
Reasons to drink
If you are new to green tea, this blend is a good option to get you trained up.
Pear flavouring to overcome the bitterness in case you over brew the tea.
1 of our 3 contemporary Chinese teas.
Caffeine Level 

 ⚫

⚫

⚫

⚪

⚪
INGREDIENTS

Green tea, Pear flavouring, Marigold petals

AROMA

A crisp and blossomy bouquet with a lingering scent of
ripe pears that's fresh and delightfully playful.


FLAVOUR

Distinctive taste of succulent pear balanced by an enticing finish of green tea.