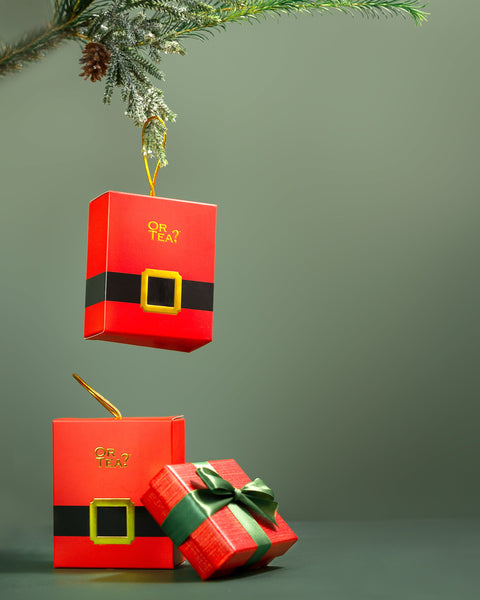 Mini Elf
Fruit blend with herbs and spice
5 SACHETS | Net Weight (15 g)
Once upon a time, somewhere in Germany, after their triumphant victory
over the Army of Mice, Clara and her mighty Nutcracker Prince
arrived in the Kingdom of Sweets, where they were welcomed by magical dancing snowflakes and the legendary Sugar Plum Fairy. 
The fairy rewarded their bravery with a celebration of dances:
the Dance of Chocolate, the Dance of Coffee, and the Dance of Tea. 
Today, let us be the ones to unveil the magical teas that were once served to those heroes in this enchanted forest wonderland!
About this Festive Delight
A festive blend of utility and flavor. This charming box not only holds 5 sachets of our exquisite Apfelstrudel tea but also serves as a delightful Christmas tree ornament. A perfect sip and sight for the holiday season, it's the gift that keeps on giving.
Caffeine Level  ⚪⚪⚪⚪⚪
| | |
| --- | --- |
| INGREDIENTS | Apple Pieces, Cinnamon, Honeybush, Currants, Chicory, Liquorice, Natural Flavouring. |
| AROMA | Abounding in natural sweetness and the scent of juicy oranges. |
| FLAVOUR | Delicate, smooth, and citrusy with a slight bite of ginger. |