HealTea Juz - Her Royal Berriness with Queen Berry
Antioxidant · Microbiome boosting · Enhance blood circulation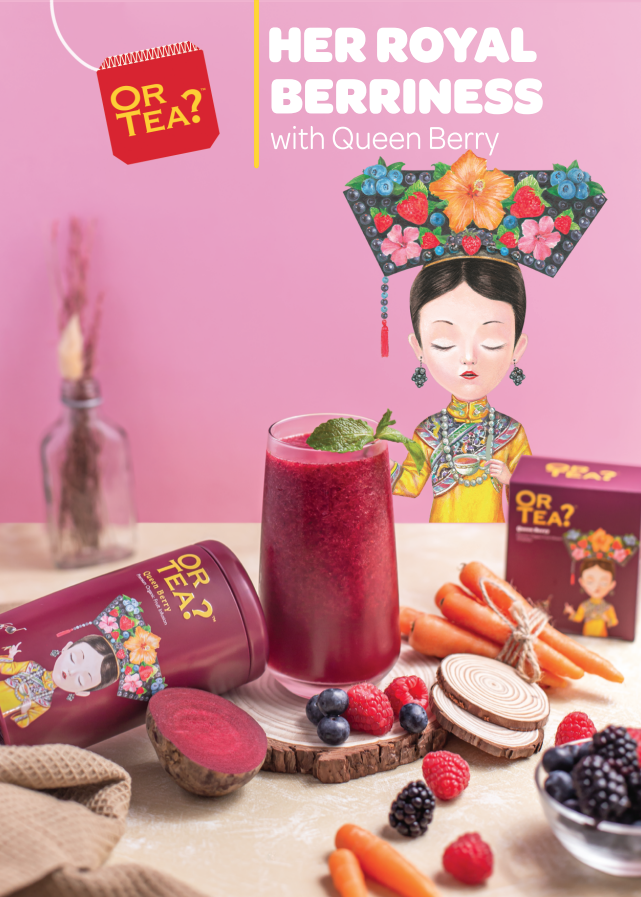 Naturally sweet and bursting with antioxidant-rich berries and cholesterol-lowering carrots, this superfood Or Tea? HealTea Juz will leave you radiating and glowing like a queen.
Ingredients



 

 







Queen Berry

Beetroot ★

Carrot ★

Apple

Mixed Berries ★

Fresh Mint

1 sachet in 200ml cooled

1 piece

small/medium

2 medium size chopped

½ piece

½ cup

Fresh/Frozen


Granish
Star of the Show
Beetroots are a delicate vegetable with a unique group of antioxidants called Betacyanins. These pigments give the beetroot their strong colour and are a key source of their benefits – particularly for supporting the liver, improving circulation and purifying the blood.
Carrots are often claimed to be the perfect health food. They're weight-loss-friendly and have been linked to lower cholesterol levels and improved eye health due their vitamin A content. The Pectin (soluble fibre), in carrots can lower blood sugar levels by slowing down your digestion of sugar and starch. 
Berries have some of the highest levels of active antioxidants per serving of any food. Naturally sweet antioxidant-rich berries support the micro-circulation to the delicate skin around the eyes, lifting dark shadows and giving eyes a healthy sparkle! Furthermore they contain both insoluble & soluble fibre – great for your microbiome.
How to Make?
Steep an Or Tea? Queen Berry sachet in a cup with 200ml boiling water, set aside and leave to cool - or add an ice cube. Run all of the ingredients through your juicer. Pour the juice and tea into a tall glass, give it a stir and garnish with fresh mint leaves.
Nutritional Facts 
Amount per serving
| | |
| --- | --- |
| Calories  | 230 |
| Total Fat | 1.5g |
| Total Carbohydrates  | 14g |
| Protein | 0.7g |
| Fibre  | 2.4g |