HealTea Smoofy - Mint-to-Be with Merry Peppermint
Cleansing · Soothing · Aids Digestion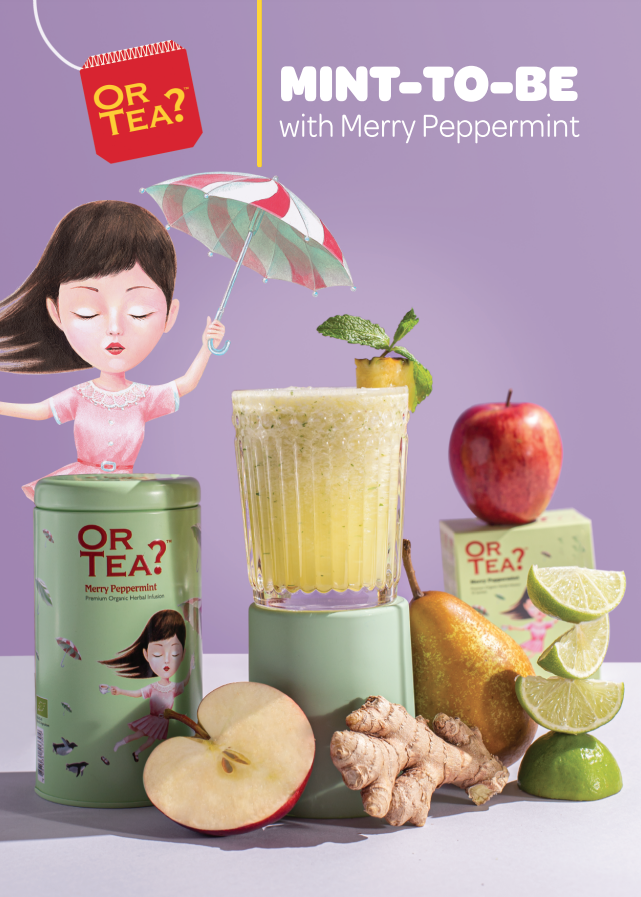 A refreshing combination of fruit, vegetables and mint makes this cooling and cleansing Or Tea? HealTea Smoofy so good for you! Digestive woes and inflammation will disappear before your very eyes. Twas mint-to-be!
Ingredients
| | | | | | | |
| --- | --- | --- | --- | --- | --- | --- |
| | | | |   |   | |
| Merry Peppermint | Mint ★ | Spinach ★ | Pineapple | Apple / Pear | Lime | Ginger |
| 1 sachet in 200ml cooled | 1-2 stems of leaves | 1 Cup | ¼ piece | 1 piece core removed | Juice of ½ piece | 3cm sliced |
Star of the Show
Mint can work wonders for almost all your digestive woes. Menthol, the active oil in mint, has antiseptic and antibacterial properties that help relieve indigestion and soothe an upset tummy. Mint stimulates digestive enzymes, which help facilitate better absorption of nutrients from food. 
Spinach has long been regarded as a plant which can restore energy, increase vitality and improve the quality of the blood. It's rich in iron which plays a central role in the function of red blood cells which help transport oxygen around the body, supports energy production and DNA synthesis. It is an excellent source of vitamin K as well as being a source of magnesium, calcium and phosphorus – all important nutrients for maintaining bone health.
How to Make?
Steep an Or Tea? Merry Peppermint sachet and the slices of ginger in a cup with 200ml boiling water. Steep for 5 minutes and then remove the teabag from the water. Steep the ginger for 3 minutes longer and then remove. Place the tea and all the ingredients into the blender and blend for 20-30 seconds / until smooth. Pour the smoothie into a tall glass and garnish with a wedge of pineapple.
Nutritional Facts 
Amount per serving
| | |
| --- | --- |
| Calories  | 150 |
| Total Fat | 0.4g |
| Total Carbohydrates  | 36g |
| Protein | 2.6g |
| Fibre  | 6.6g |